Green Team
This year, our Green Team have elected to call themselves 'eco-warriors', in recognition of the urgent action needed to protect our planet! Our 'Eco Warriors' were voted for by their classes, supported by Mrs West, and Miss Tiley.
The Eco Warriors are split into 2 teams
Our Year 2 eco-warriors are:
| | | |
| --- | --- | --- |
| Bella | Eddie | Arthur |
| Luella | Emily | Malachi |
Our Year 1 eco-warriors are:
| | | |
| --- | --- | --- |
| Joshua | Alice | Theo |
| Eddie | Darcey | Ben |
March 2022 - Palm Oil
December 2021 - Our New Year's Resolutions
At our last meeting of the year, the Green Team discussed New Year's Resolutions for 2022. We thought you might like to know what the team have decided to work on in the coming year.
IZZY wants to pick up litter. Great idea - watch this space for regular organised litter picks on the school grounds next Spring.
DANNY, POPPY, JOCELYN and PHOENIX want to declutter at home and donate all their unwanted toys, books and clothes to charity shops. Another brilliant idea which we could help with - possibly a collection of items to be donated?
THEO wants to recycle items he no longer needs in his house. Wow - perhaps we should organise a car boot sale or a book swap at school?
MATILDA wants to donate to a local food bank. This is such a kind idea - look out for extra Green Team support with our annual Harvest Festival collection for the Community Life Centre food bank.
DEMI and ARCHIE want to raise money for children who aren't well. This is another kind idea and ties in with our fundraising for Children in Need - watch this space for some green Pudsey Bear activities next year!
Mrs M has promised to declutter in 2022, and Mrs Bennett is going to try very hard not to buy anything she doesn't need!
November 2021 - Turn The Lights Off
November 2021 - Turn It Off!
September 2021 - Feeding the Birds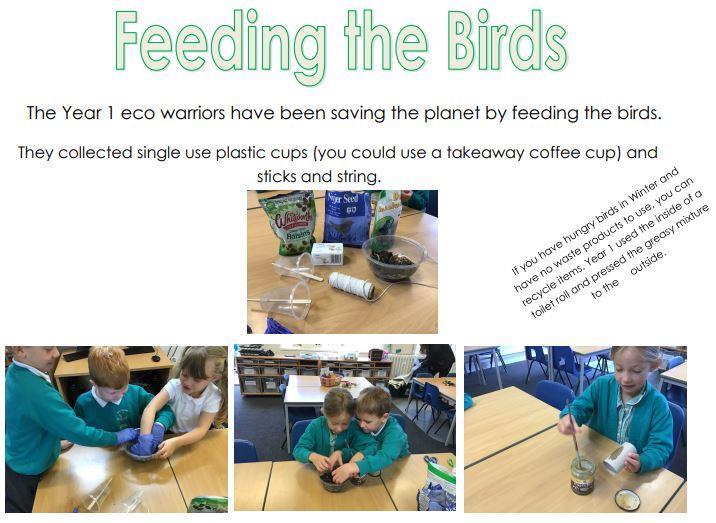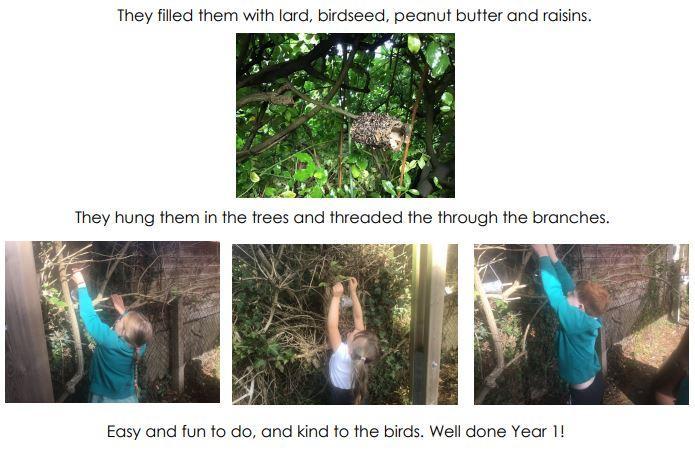 September 2021 - Put The Lids On!